A profession divided on the best way to serve clients, accountants globally will spend the coming months planning how they should move forward this year. Be it compliance-only firms that are thinking of moving towards advisory, or those that are providing a balance of both, everyone's looking at the benefits of advisory services alongside compliance.
Truth be told, we're firm believers in providing advisory. Whether you team it up with compliance or solely focus on it, it's the future of the profession. Technology is providing firms with tools that complete compliance work in record time. When there are no more hours to bill for, where do you look to for revenue? Advisory.
So what are the key differences?
We've investigated the core benefits of both services over the years. Most accounting firms these days are interested in the longevity and complexity of services. With advisory services, you're putting your clients and your team first.
Advisory puts you and your team in a great position to increase revenue, reduce churn and increase your knowledge base. As more and more technology is released to automate compliance work, the core of the hourly billing structure is falling apart. Advisory provides vital attributes for keeping the money coming in.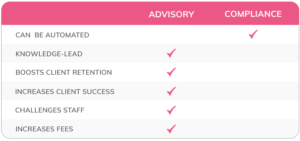 There are many differences but, ultimately, the core of it comes from you. Compliance is, of course, much more of a substantiated process than advisory, but that doesn't mean it's the better, or only, route for your firm to follow.
We've found that many of the advisors we work with provide a combination of both. Regardless of where you are in the world or in your career, compliance work can be your bread and butter for revenue.
Would you prefer to provide transactional, once a year form-filling or do you want to become an integral part of their business? Where can a balance come from?
There are few things to consider before starting to strike out a balance between advisory and compliance in your firm. Firms that do both well are great resources for their clients, as they're a one-stop for everything a business owner needs. They will gain their legal requirements alongside timely advice and direction, and this is a fundamental sign of successful offerings.
Providing a good service will equate to positive feelings about you
When a client has good feelings about your firm, the chances of them referring you, sticking with you and trusting you increase exponentially. And it's not hard to gain these positive emotions. The core of advisory is asking the questions that matter to your clients.
Are you happy with the way your business performed this period?
What are your short-term and long-term goals?
Where do you see your business this time next year?
For some, asking the questions that really matter feels like it's too pushy. But it really can be simple. Let's say you've got a client in for their compliance work. It's the first time you've seen them in a year and the last time until next year.
They won't expect you to scratch the surface because they've not had that option before. Once you do, though, they'll want to find out exactly what you know that could help them.
So when you're planning how to make the most of this year, think how you can successfully add value to your clients. It may be the case you slowly turn your firm's attention to focus solely on advisory, or perhaps you're more interested in balancing compliance and advisory services. Either way, explore what advisory can do for your firm and your clients and you'll soon see an uptick in client engagement, satisfaction, and of course, revenue.