If you're in the market for cloud accounting platforms, you'll know just how many options are out there. In this blog we look at two in pole position globally: Xero and Quickbooks.
The main point to know here is that these are both great choices. For the most part, they're extremely similar in functionality, price and the standard of service that they provide. The differences between them, for the most part, are minor variations in features and style. So, one may prove more appropriate for your business, but either would likely do the job.
First, let's make some introductions.
Who are Xero?
Xero's a New Zealand born cloud accounting software. Founded in 2006, it's swiftly made its way to the top of the list. It operated globally with offices in Australia, New Zealand, UK, US, Hong Kong and Singapore. Its tagline 'Beautiful business' is pretty telling. Xero's user-friendly, simple and very sleek.
Who are Quickbooks?
Quickbooks Online or Quickbooks Online is the cloud accounting software from US giants, Intuit. They also have an offline or desktop accounting software called Quickbooks but it is not to be confused with their cloud product. Market-leading on the global stage since its founding in 2004. Quickbooks Online aims to simplify the otherwise complex world of business finance, reflected in their tagline, 'Smarter business tools for the world's hardest workers'.
Pricing
Let's get this one out the way first.
Xero have three pricing tiers, their cheapest, Early, is far cheaper than any Quickbooks package, at $9 a month. But, it's worth noting that this package is also extremely restricting. You're limited to sending a maximum of just 5 invoices, entering 5 bills and reconciling 20 bank transactions.
Their second tier, Growing, jumps up to $30 a month but allows you to send invoices, enter bills and reconcile bank transactions to your heart's content.
Established, adds extra services, handy features like handling multiple currencies, expenses, and time-tracking, among others.
One point of note on Xero's plans, however, is that, regardless of package, you can have as many users as you'd like.
Quickbooks Online plans start at $25 a month, quite the step up from Xero, but already allowing you a plethora of unlimited features: track income and expenses, capture and organize receipts, invoicing, estimates, basic reports, and sales tax. A severe drawback for this package? Only one user can access the software.
Next level up, at $40 a month, is Quickbooks Onlines Essentials package, unlocking their bills management and time-tracking functionality, as well as allowing two additional users.
Level three is their Plus package, at $70 a month. Unlock the ability to track project profitability and inventory. And increase your workspace size to five users.
Adding payroll processing functionality on Quickbooks is another $35 or $80 a month, depending on what you need, and an additional $4 per employee on top of that. This isn't something you can add to your Xero package, but they do integrate with a range of apps (that need to be bought in addition) that provide the service.

Both products tend to offer 50% off for up to 12 months at most points during the year. Your accountant will certainly be able to secure preferential rates if not wrap the cost into their monthly/annual fees so they are often a great place to start!
Now, let's dive into the technicalities. First up, features.
Features
Both platforms are very similar in their functionality. Whichever tool you choose, you'll be ready to process your invoices, issue quotes, reconcile and manage your bills and snap and submit expenses. 
Both have mobile apps so you can manage your business on the go. Quickbooks Online has a 4.7-star rating on the Apple App Store, far outranking Xero's 2.6-star rating but this could just be indicative of their larger US following.

Invoicing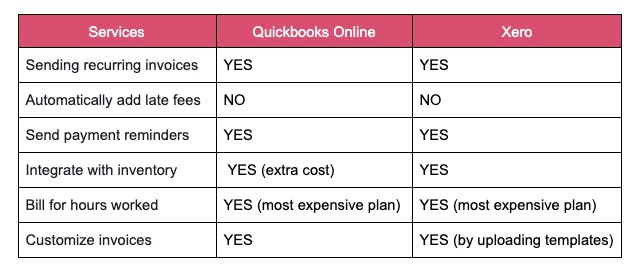 Both programs will automatically remind your clients about overdue invoices. In Xero, your reminders settings are limited, and whatever you set will apply to all customers. In Quickbooks Online, reminders can be selected and applied individually.
Bills
Paying bills is just as important and collecting them. Both payment forms include the expected fields, payee and due date, total quantities, price per unit. Both providers allow you to convert your purchase orders to bills once fulfilled, a handy time-saving feature.
There are multiple ways to set up recurring bills with Xero. You can then adjust the recurrence options as you wish. Setting this up in Quickbooks is trickier and requires many more steps to achieve a graph that isn't quite as good. 
Reporting
Quickbooks makes reporting very simple. Whip up monthly P&Ls, balance sheets, whatever you need. Xero's a little clumsy in this area. Saying that, what really stands out about Xero's system is their dashboards. They're customizable and show a range of handy information by default.
In both cases, there is a wide range of integrations (including us futrli.com) that can plug in to take reporting to the next level.
A point worthy of note is that in Xero's report layouts their monthly report will go from left to right. This, for most business accountants, is the wrong way round! This is likely not to be a dealbreaker, but it does prove that Xero was built for businesses first, and accountants second. Equally if you do a lot of work with your accountant, Quickbooks may be better.
Integrations/App Partners
Xero has an app store featuring over 700 integrations and Quickbooks Online isn't far behind with around 600 integrations. Many of the app partners straddle both Quickbooks Online and Xero but do check the marketplaces if you have a specific need.
A few key integrations to look out for:
Your CRM
Your eCommerce platform
Your marketing and sales tools
Your time-tracking tools
Support
Quickbooks Online go above and beyond in this category having instant telephone support to complement their help guides and community forums. Possibly one of the most valuable features you could offer any small business.  Whilst Xero doesn't have a helpline, they will call you when necessary. Both platforms also have online support 24/7.
Scaling
If you're imagining scaling your business beyond 50 employees and to a turnover north of $5M Quickbooks is the more obvious choice. Although both software can scale, Xero can start to struggle to fulfill all your needs as your business grows and unlike Quickbooks Online, they do not have other options. The Quickbooks software suite is designed to fit businesses of all sizes.
What would your accountant say?
This is a question worth asking, they'll know what to look for with your business in mind. Although most accountants are happy to work on any platform, it's worth having the conversation. They also may be able to advise on which would suit your business better.
To conclude, there's no clear winner here. Your choice between the two would come down to the individual requirements of your business and the direction you're hoping to take it in in the future.
Xero's built for businesses. Their handy dashboards, easy-to-use interface, and integration library sets them apart.
Quickbooks Online, although slightly clunkier, is an extremely powerful tool. Their reporting functions, plan options and ability to scale make them a great choice for any business looking to grow.