Today, I'm very excited to announce our latest partnership with GoCardless.
Good cash flow and cash management practices are invaluable to small businesses. Getting paid quickly so that you know you have enough money in the bank to pay your suppliers, staff, and expenses are crucial to making it through to the next month and beyond.
The partnership between Futrli Flow and GoCardless does just this. Flow's revolutionary Actionfeed gives you daily, data-driven, actionable insights. This essential data will help you improve your cash, as well as provide the reassurance and confidence to know you're making the right decision, with data by your side.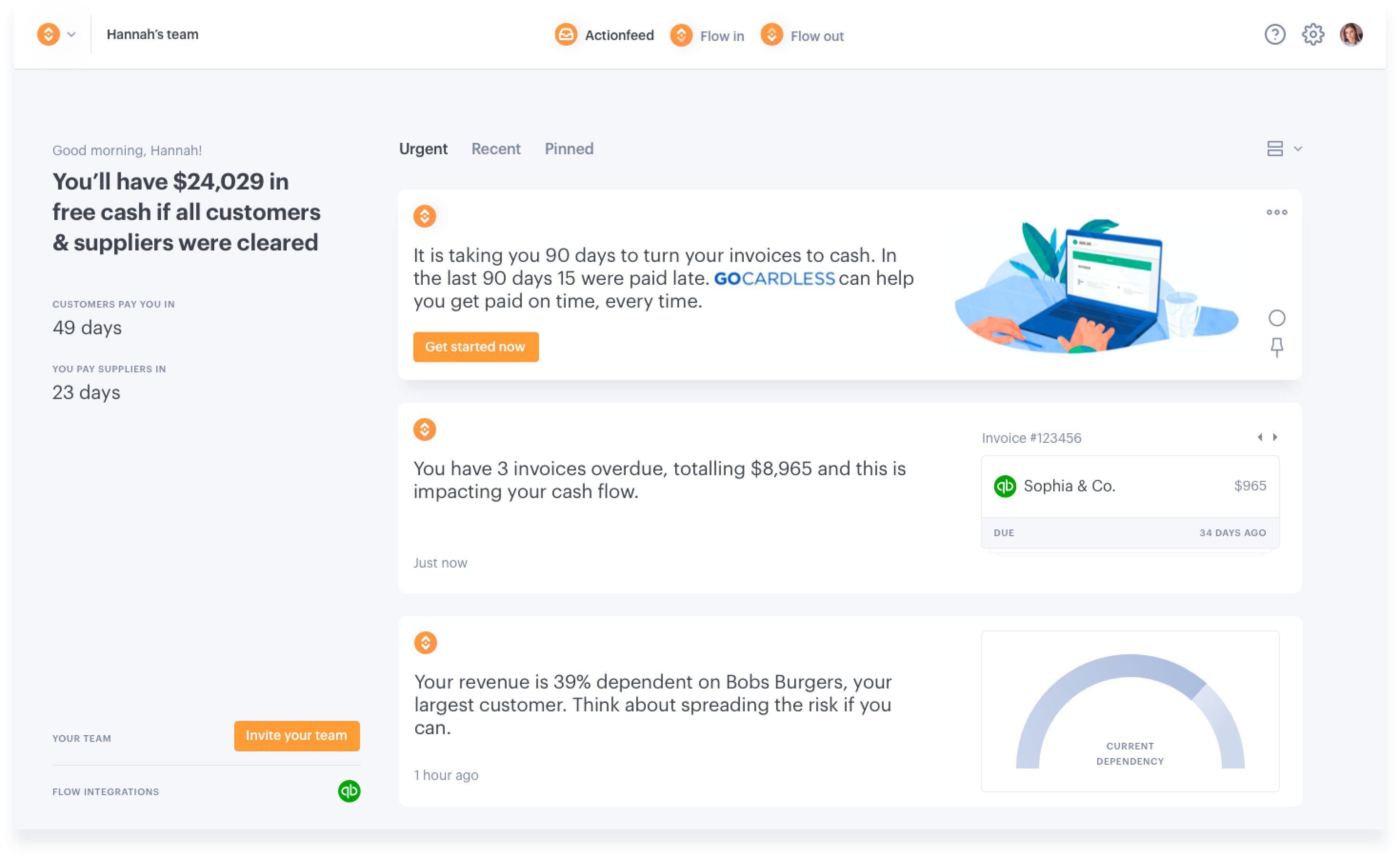 Flow predicts late-paying customers. On average, it takes over 40 days for a UK small business to get paid for a 30-day invoice. Flow's there to let you know in advance, suggesting customers for you to move onto GoCardless, automating their payment collection and protecting your cash. This ensures you get paid on time, every time - maximizing and protecting cash inflows at every opportunity.
That's our mission, to protect your cash. With the right software, solutions to any dangers facing your cash are at your fingertips. With Flow and GoCardless, late payers will be a thing of the past.
A lack of cash flow management is holding small businesses back
Statistics from the Small Business Administration say that "inadequate cash reserves" are a top reason startups don't succeed. Futrli Flow makes managing and improving your cash a top priority, and easier than ever. Acting as your daily to-do list, Flow provides data-driven insights and suggestions to improve your cash, manage your customers and suppliers and make sure all your invoices and bills are paid on time.
Late payments cost businesses around the world over £500bn per year in cash management costs and 80% of that cost burdens small businesses. GoCardless helps you get paid faster by creating simple Direct Debits you can collect from your customers as soon as their payments are due. GoCardless users spend 84% less time chasing unpaid invoices. So, not only do you improve your cash flow, but you save time on admin too.
How can Futrli and GoCardless be used together to improve your cash flow? Let's look at an example.
Let's say one day, you log in to Flow for your daily updates, there's a couple of things to celebrate, and a couple of issues to fix before they cause you any trouble. "You have three overdue invoices, totaling $800" sits at the top of your Action feed. You dive deeper and find the invoices are coming from three consistently late-paying customers. You think, "Hmm, what can I do about that?".
GoCardless allows you to invite those three customers to pay by Direct Debit. This means future payments are automatically collected on the invoice due date and make your customers' lives easier by removing the need to enter payment details every time they need to pay.
The following month you're logging into Flow to check off your daily notifications once again. "You're being paid 3 days faster than you're paying your suppliers, this is 4 days faster than last month, you're no longer at risk". 
That is the power of our partnership. Flow helps you tackle problems before they tackle you. The proof is in the pudding. 
Without considering any other areas of cash management, we know that right now, small business owners are spending 10% of their day chasing payments. Our mutual aim to help businesses spend less time worrying about cash and spend more time doing what they love inspired our partnership with GoCardless.
Rachel Astall, Head of Global Partnerships at GoCardless said "We're excited to join forces with Futrli to enable businesses to identify and solve cash flow issues. The way businesses get paid is fundamental to the health of their cash flow. Many smaller businesses, however, haven't had access to the insights they need to make the best decisions. By combining the power of Futrli Flow with automated payments from GoCardless, together we can help thousands of businesses take control of their cash flow."
The partnership officially commences on Monday 16th December 2019. Launching a joint effort between Futrli and GoCardless to boost the success of the global small business ecosystem.
I speak on behalf of the Futrli team and GoCardless when I say we're incredibly excited to see what comes from this partnership.