Futrli's Flow is a now your predictive credit controller.
Small business owners like you are chasing more than £50bn worth of late payments today. Late payments that have a high chance of contributing to failure rates, so for our UK customers today we have launched a deep partnership with Hokodo to tackle this head on. The aim is to give you the tools to protect your business from those customers who will put you at risk as well as protect your cash flow with invoice insurance.
Credit scores
From within Flow, you'll now be able to match your own business to have your credit score monitored every day. This will be permanently available on the headline panel in the feed. As soon as you've done this you'll then be able to match your customers to get their credit scores. This is only available for Pro Flow customers.
Use this functionality to assess whether you want to extend a line of credit to a new or existing customer, as well as potentially withdrawing credit from those customers who may put you at risk.
Credit scores are assessed and updated when there is new activity, any changes to credit scores you'll be alerted to in the Feed as well as being able to see the rating of any customer in Flow In.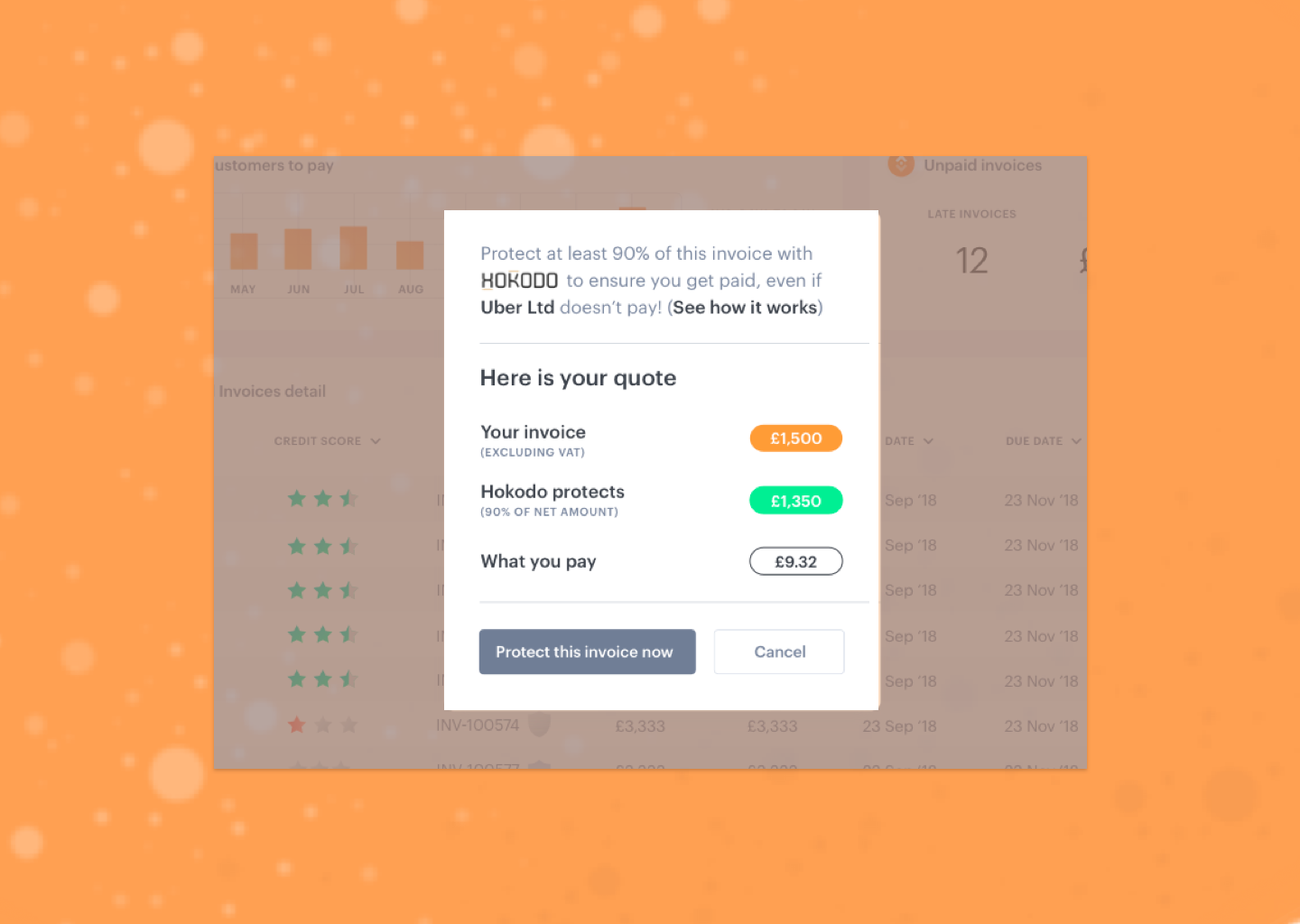 Invoice Insurance Protection
In Flow In, for any customer that you've got a credit score for, if they have an unpaid invoice, you'll also see a shield in the table. Depending on the credit score, when you click on this you'll be given an instant insurance quote by Hokodo. The quote will tell you how much of the invoice can be protected (it's usually 90% of the total) and how much it would cost to insure - typically between 0.5% and 2% of the invoice value. To get protected, just click the button, complete the short insurance form and you're covered. 
Posts in the Feed will be generated if there are new invoices that could be protected. The entire Flow system monitors your exposure and potential cash flow solutions like a virtual credit controller.
How does invoice protection work?
Invoices can be protected on a pay as you go basis, meaning there is no contract or subscription. From the Flow In page, click the shield icon next to an invoice to start the protection process. Once completed the shield icon turns green next to an invoice and links directly to the policy document for you to download for your records.
Don't forget you can cross reference other essential metrics from within Flow, such as average sales, customer dependence and customer trends to get a true handle on your business.
Check it out below and login to Flow here.