5 Mood-Boosting Websites for Stressed Out Business Owners
Posted on 28th June 2017 in Business
We're all for funny cat pictures and gifs, after all, you've got to do what you've got to do when it comes to mood maintenance and putting a smile on your face! We know that there are times when running a business can grind you down. Whether it's having to deal with your never ending email stream or being let down last minute by a supplier, sometimes you need a quick timeout to pick yourself up before forging ahead again. That's why we've put together this list of 5 great mood-boosting websites – you'll enjoy them as much as cats love catnip!
"A day without laughter is a day wasted." — Charlie Chaplain
Research, both scientific and anecdotal, shows that humour and other positive stimuli, such as music, are great ways to manage stress. A study from the Journal of Applied Psychology showed that teams benefited from improved performance as a result of just one use of humour in the work environment.
It also showed that a positive and light-hearted atmosphere helps you with memory recall, encourages creativity and leads to more productivity overall. It's important to take ownership of your mood so that your interactions around the office contribute towards creating a positive atmosphere at the workplace. Thankfully, the internet is a great resource to help you do just that and we've asked around the office to get a selection of mood-boosting websites to help keep you on top form. Here are 5 of the best:
1. Good News Network
They say that bad news travels faster and it does seem like bad news gets given priority by the mainstream outlets. It's perhaps unsurprising that ingesting an unrelenting stream of negative press can bring you down. It's important that you counteract this phenomenon and remind yourself of all the equally heartwarming stories that are going as well. Otherwise, your world view can quickly get distorted and you start to see setbacks at work as apocalyptical! The Good News Network and Huffington Post's Good News section offer a curated selection of positive, inspiring and heart-warming news stories that act as the perfect antidote.
As a bonus, what you learn from these sites acts as perfect watercooler talk that allows you to spread positive vibes around the office. Be the person who has the positive story to tell and be the catalyst to turning a colleague's day around.
2. Spotify
Music is another great way to change your state and is known for its multiple physiological benefits, including mood regulation and mental stimulation. Spotify is a fantastic free music application that has specific playlists tailored to different moods and for transmitting positive vibes. So when you find yourself flagging a little you can call on Mood Booster, Mood Detox and Euphoria to disrupt the downward spiral. You can even create and share your own playlists if the mood takes you. While the 'Cat Songs' playlist is, of course, optional, it does serve to show that every taste is catered for.
Read this blog post and learn when to hit play and pause for maximum efficiency
3. The Onion
From the sublime to the ridiculous, but potentially just as effective for getting a smile on your face, The Onion, "Americas Finest News Source" provides some light relief in the form of hilarious and somewhat surreal (fake) news stories. The Onion is an American digital media company and news satire organisation that predates today's connotations with 'Fake News'. In short, if you need a laugh then check them out!
"Laughter is the sun that drives winter from the human face." — Victor Hugo
 4. Giphy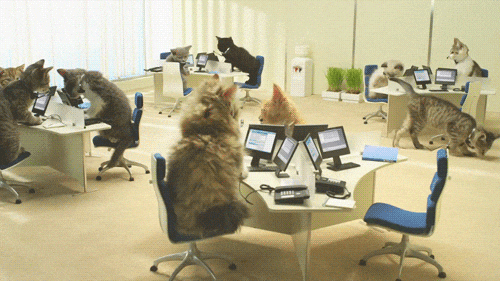 We told you we were all for Cat GIFs! Giphy curates all the best GIFs on the web and is used regularly by our team in Slack to send congratulations and for general banter around the office. You can certainly amuse yourself and quickly forget whatever is troubling you by looking through Giphy for a few minutes. As an added bonus, you can also get inspiration for a social media post at the same time, so it's win-win.
5. Stop, Breathe & Think
Meditation and its many forms have gained a wider audience in recent years, with more people than ever turning to it as a way to deal with the stresses of the modern world. However, it's not always easy to keep to it and it can be difficult to convince the body and mind to engage in stillness. Stop, Breathe & Think is a website that can help, by allowing you to first check in with how you're feeling and then offering short activities that are tuned to your emotions that can help their regulation.
If you still need a little convincing, PositiveHealthWellness.com give the science behind why meditation can make you so much happier.
Read about the hobbies of successful entrepreneurs and their benefits
---
FUTRLI is catnip for business success